Bias is an important thing to discuss, so here's mine before we start: I have a crush on Anna Kendrick.
But really, who doesn't? She's a pint-sized, über-talented individual with a penchant for swearing (I realize it's kind of sexist to find that endearing). If someone says they don't have a crush on Anna Kendrick, they're clearly a robot from the future.
Basically, this could be a terrible book and my clouded perspective refuses to see it. I'm completely ok with that. Read at your own risk.
When Scrappy Little Nobody first got announced, I was intrigued. I haven't watched all of her movies and I haven't enjoyed all of her movies (though I haven't hated any), but I've never seen one where I thought "this would be great if it wasn't for that Anna Kendrick." I follow her on the Twitter and she tells the funny jokes. And then I heard her on Nerdist, and that kind of did the trick. She's a very engaging storyteller, so I knew I'd have to read the book eventually.
I picked it up a couple of weeks ago from Lemuria Books in Jackson, MS. I was in town for a work trip, and I don't like being somewhere with a legit bookstore without buying a book (as a rule, I don't step foot in one without buying a book either [except airports] because I get too many Kindle books and I want the stores to stay open).
This wasn't the book I was looking for when I walked in. I actually didn't know what I was looking for. I kind of decided to squat in the Sci-Fi/Fantasy section until I found something. I eventually landed on The Name of the Wind by Patrick Rothfuss. It kept popping up as a suggestion, so it seemed like a good bet.
As I was checking out, the Kendrick book was sitting by the register, so I threw it in on a whim. A $25 whim.
It wasn't my intention to read the book any time soon. In fact, I'm currently working my way through three other books, but they're all kind of moody downers, so I decided that I'd pick up this book.
I'm not usually one to look at dedications and such in books. I'd rather just start reading, but I knew Kendrick would probably have something interesting, so I looked at the back and front of the book to see what was in there. The picture on the inside back cover is endearing in a way I still don't understand (scroll to the bottom of this page), but it's the front of the book that caught my attention.
I'd gotten a hold of an autographed copy without realizing it.
I forgot the Lemuria specializes in rare and signed first editions. I'm not going to be grabbing some fancy old book, but occasionally I grab a new hardcover. Though they're not my favorite to read, I will grab them sporadically if there's a book I'm really excited about.
I should have realized this might happen. The only other hardcover I've gotten from them was also signed (Secondhand Souls, for those asking). Still, it was a nice little surprise, and now I'll probably never lend it out because of that.
Also, I'm pretty sure I have Sharpie marks randomly on some of my pages because of this process. If I ever get to sign books, pretty sure I'm going to sneak an obscene drawing into like two copies when no one's looking just to see what happens.
But enough with the story about how I bought a story.
Scrappy Little Nobody is an autobiography that provides an overview of the quirks of Kendrick's life and how she's reached this point in her career. You're not going to find much in the way of celebrity gossip. What is here is always couched with how nice the person really is or how much she respects them. If she truly talks shit, you won't get their name. And that's awesome. This is her story. It works better this way.
The main sections of the book track her life as a child performer, transitioning to being an (almost fully functioning) adult, dating, celebrity, and a catch-all section for other stories that don't quite fit in somewhere else.
The stories are all enjoyable (and will make you laugh out loud repeatedly and sometimes cringe with the awkward). It's hard to do a deep dive, but if you see her being candid in interviews, you get an idea of the types of jokes and stories she'll tell. She doesn't really pull punches when it comes to herself (and poor Chris Pine). With all the jokes is a lot of honesty and some good advice for how to treat yourself and how you should expect others to treat you.
There are a lot of reasons to read this book. My leaning is its humor in real situations. Finding the humor in the mundane and the awkward is where I like my comedy best. For someone who had a Tony nomination as a 12-year-old and an Oscar nomination in her early 20s, she's astonishingly relatable.
Another reason is just to see behind the doors of acting and show business. You're not reading a rehab story or a judgy story, so it's kind of cool to see what happens without going "Oh my God, I can't believe Ryan Reynolds is such an asshole."
Another reason is that it's just written well. One of my favorite things was how they used the font size. Once or twice, it's dropped down in size (mentally I say it as a whisper). Because this isn't a serious book, Kendrick has fun with the font throughout, so it adds a rhythm.
The weird thing about reading this book is being able to mentally hear the narrator. This happened with Felicia Day's book too. When you hear someone talk enough (especially because of the Nerdist episode), you can mentally picture what their cadence would be if they were reading the book. It's like having a low-grade audiobook without the random missed pages of content because I mentally spaced (or was trying to avoid getting in a traffic accident).
My one real critique is flow and structure of the book. The first 3 sections flow pretty well, but the last two are a little more scattershot. They're still funny to read as individual stories and chapters, but they don't flow into a larger narrative quite as well. The first 2 sections were especially good for flow.
That said, it was a great book. I binged it over the weekend (and possibly hurt my neck from laying back on the couch the entire time to do so). This is going to be one of those books that I'm disappointed that I'll never get the experience of reading for the first time again. I wish most autobiographies read this well and were this funny (though I suppose if you've led a tragic life, you're free to not tell jokes the whole time).
And Ms. Kendrick, if you're reading this,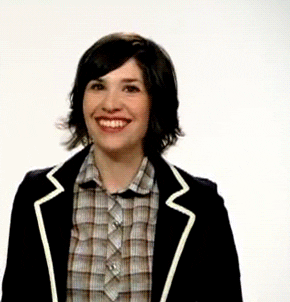 -Q